Our Expertise


Fireplace Concepts North America specializes exclusively in custom gas fireplaces. With your vision and our custom fireplace expertise, you get the custom built fireplace that is a work of art, a focal point for social gatherings, an embellishment; it is not just another fireplace. Having indoor or outdoor custom fireplace uniquely customized to suit your style and preferences is a very great venture because you will always be guaranteed it is like no other fireplace out there in the market.

We design and manufacture a new leading edge of modern and contemporary custom gas fireplaces. We offer superior custom fireplace designs and quality products for any highly designed environment, whether it is commercial or residential. Each and every custom fireplace meets superior standards of the leading design industry professionals. Fireplace Concepts North America is a knowledge leader in custom fireplace industry and our professional services will be happy to assist you with any questions related to custom fireplace design, fabrication, installations and more at no obligation.

Custom fireplaces are our specialty, in particular open custom fireplaces, single sided fireplaces, double sided custom fireplaces, three sided custom fireplaces, four sided linear gas fireplace, linear custom gas fireplaces, modern custom gas fireplaces, custom see-through fireplaces, multi-view custom fireplaces, peninsula linear gas fireplaces, as well as contemporary custom fireplaces, custom outdoor fireplaces, custom gas fire pits or fire bowls, custom fire pit burners, custom burners; our innovative team designs and manufactures it all.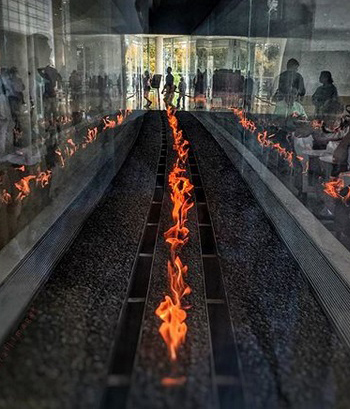 View Portfolio
Why Choose Fireplace Concepts North America?


We believe that the key to our success is the simplicity of our custom fireplace designs, which are based on your sole vision, and a group of dedicated professionals, who have hand crafted custom fireplaces for many years building the finest quality fireplaces in the industry as well as the leading standard for design, craftsmanship and elegance.

Our custom fireplaces are designed and tested to exceed UL/ULC standards and associated sections conform to North American Gas Code. Once installed, our custom fireplaces have been independently tested and approved by ULC and other certified and recognized independent testing agencies throughout North America as specifically required by local jurisdictions.

We are trusted custom fireplace manufacturer in North America, whose sole operation is to design and build best custom fireplaces. We are committed to always innovate our in-depth custom fireplace designs and manufacturing focusing on quality, safety, performance and customer service. "If you can dream it, we can build it", that is our mission and we continue to take it to the next level and strive for excellence, improvement and growth.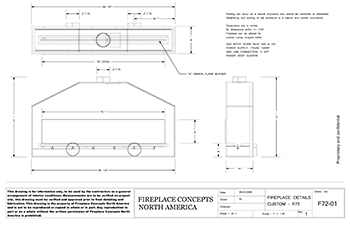 View Specification